NZIPP MASTER and Fellow OF PHOTOGRAPHY.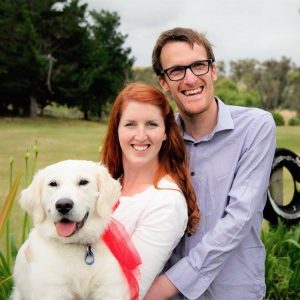 Hi there, thanks for popping in, I'm Anna, I am the boss around here. I'm the one with the camera in these parts, if you book a portrait session with me you can guarantee I'll be the one behind the lens, I've been photographing families and weddings for over 6 years now, I've won a lot of awards and I'm distinguished as a Fellow of the New Zealand Institute of Photographers. Flash as.
I also run and own Little Annie Ltd offering quick and easy portraits around NZ.
My great loves are photography, business, Shelby (golden retriever), Harry (cat), Blair (manfriend), cute babies and photography (worth mentioning twice).
My wing man and right hand is the one and only Ryan McCauley, we've been working together since studying photography at Massey back in '09. We're often mistaken for siblings (we're not). Ryan shoots and edits weddings and creates breathtaking imagery for our wedding clients and does all sorts or whizzy magic behind the scenes – check out Ryan's portfolio and get in touch if you'd love to share your big day with him.
Been taking photos since: way back
Qualifications: Masters in Photographic Design from Massey Wellington
Mel is our Studio Manager, she keeps this ship running (most importantly, she is a coffee mule), if you get in touch via email or phone you're most likely to speak with Mel first, she knows what's what and who's who and what you need to do. Mel has a little baby of her own and is planning her wedding for 2017, so she knows exactly how your boat floats.
Have you seen our testimonials?
Our portrait studio is located at 98 Karori Road, right opposite the Cellar Room (wine!) check out how pretty it is!
If you'd like to book in a portrait shoot, if you have a new baby on the way, big kids off to Europe, or a wedding coming up, we would LOVE to hear from you. Get in touch via email hello@annamunrophotography.com or call Mel 022 507 6179